a little book of places to start & a big celebration of creativity
here's how it works: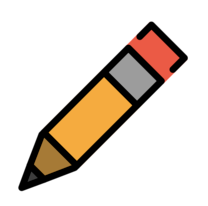 1. doodle
Each page has a different place to start! On the first page you might draw flowers, and your friend might draw a football, and some other rando might draw an alien, and I promise y'all are each doing it right.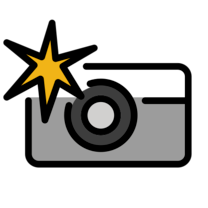 2. share a pic
Post your doodle with the page's hashtag and tag @doodledifferent for a chance to be featured! Social media not your thing? I hear ya. Text or email works too: (512) 366-3724 / hi@doodledifferent.com. Click here for details.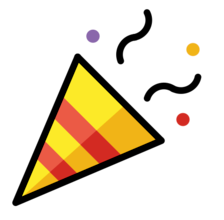 3. celebrate
It's going to be one big celebration of imagination and perspective and you're part of the magic. Click here to see what people have created from the same starting place. Let's doodle different - together!
what people are creating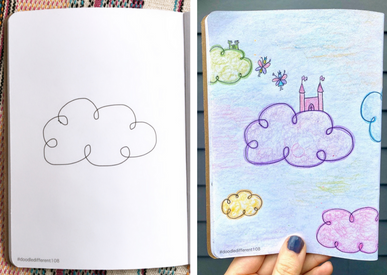 "Fairy Princess Friends" by Daisy M. in Nashville, TN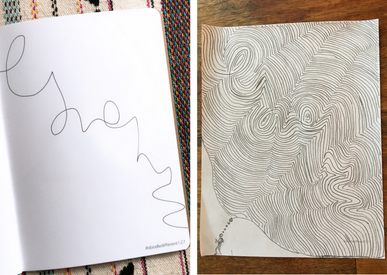 "Thoughts" by Paolo M. in Bali, Indonesia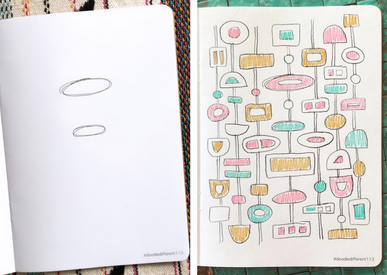 "Midcentury Modern Lines" by Kathy S. in Maui, HI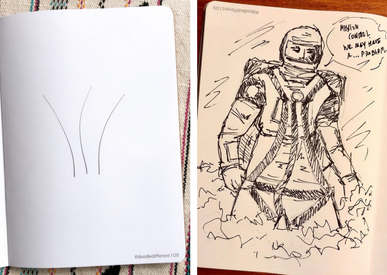 "Problem" by Lalo D. in Antigua, Guatemala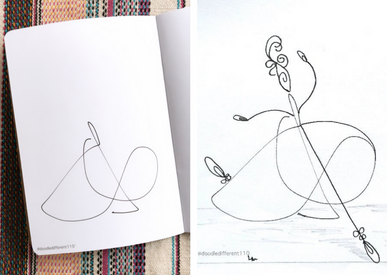 "Dancing Line" by Lyn M. in Austin, TX
"OH HAI" by Jay P. in Chicago, IL
kind words from kind doodlers

"Irresistibly fun... I've already bought a BUTTLOAD of copies to share with friends and family as a low-stress, you-can't-do-it-wrong activity at holiday gatherings."
– Ellen B., Musician

"I'm not a creative person, but this little book of magic made me feel creative for an afternoon..."
– Jenny R., Business Owner

"Super fun and unique for the hidden creative inside all of us."
– Jay P., Designer

"... an amazing, game-changing way to use your imagination and make doodling frickin fun + cool."
– Alana F., Artist